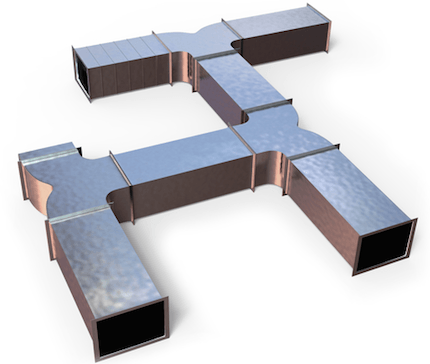 Your cooling system operates efficiently when the proper AC equipment is used and sized for your building, the ductwork is professionally designed for the space, quality ductwork materials are used, and professional installation is utilized. Efficient airflow is the lifeline of any HVAC system.
Ductwork has three purposes: Supply Air, Return Air, Exhaust Air, and to provide ventilation that promotes healthy indoor air quality and thermal comfort all year long.
Between 400 and 700 cubic feet per minute of conditioned air circulates through the ducts of a typical home. In many homes, up to 30% of that air is wasted and does not even reach the rooms it's intended for. Inefficiencies in ductwork can be due to duct leaks, thermal loss, and imbalanced pressure that cause air loss in the duct system.
Ductwork design done right is calculated by professionals who use industry software and professional installation. Have your ductwork fabricated using quality materials, and keep duct maintained with periodic checks for leaks.
For best results it is essential that the ductwork be designed for each building at the time of planning and construction. New AC units can be retrofit to your current duct by your professional air conditioning contractor, Marlin Services.
Well designed and installed duct systems operate at their best, and they can save you substantial energy and $$. Remember to periodically have your ducts checked for air leaks and have them repaired quickly.
Stay cool and comfortable this summer!
MARLIN SERVICES
We know comfort – We are there when you need us – 24/7
Call: 602-470-1040